News
End of Season Field Reports
2015-2016 Field Season
Ice Drilling Design and Operations (IDDO) Activities at WAIS Divide 2015-2016 (T-350)
NSF-OPP supported
PI: Mary Albert (Dartmouth College)
Field Team:
Summary of Field Season Objectives:
Extend borehole and fill slot per guideline from Chief Scientist Kendrick Taylor
Ship repair parts from MCM to South Pole for SPICE Core project
Disassemble and pack remaining DISC drill components and equipment
Track and photograph all DISC cargo in MCM and at WAIS Divide
Verify all cargo is labeled and ready for vessel shipment
Summary of Field Season Results:
Retrograded all IDDO equipment already in MCM
Delayed in MCM
Hand-carried some parts to MCM for SPICE Core project at South Pole
Once at WAIS Divide, was able to extend borehole casing with supplied adapter and filled slot with fresh snow using snow blowers
Removed remaining arch floor to allow access to yellow crane by heavy equipment
Disassembled yellow crane and palletized for shipment
Removed and packed all cable trays
Located and inventoried electrical panels and transformer previously removed by electricians
Packed and palletized control room
Crate constructed and packed with all safety railings
Fenced in exposed top of borehole casing
Due to cancelled return flights to MCM, was assigned camp take down duties
Arrived in MCM and retrograded DNF
Hardigg held in MCC as well as remaining misc. documents and tools
Project Execution:
Dec 26 – Koehler flew from CONUS to CHC
Dec 28 – Collect clothing at CDC
Dec 30 – Koehler flew from CHC to MCM
Originally scheduled for four days in McMurdo for training and shipping cargo, but due to extreme weather and aircraft delays, ended up spending two weeks in McMurdo.
Koehler arrived at WAIS on 1/14/16
During the rest of the week of 1/14/16, the borehole casing was extended and the slot was filled with fresh blown snow with no voids. Located all existing cargo from last season and built crates for remaining cargo. Remaining arch floor removed and snow floor leveled to assist in yellow crane disassembly.
During week of 1/18/16, yellow crane was disassembled and palletized. Control room was palletized and packed. Inventoried and crated remaining equipment and staged for shipping next season.
Due to flight cancellations, Koehler and carpenter crew were re-assigned as camp takedown crew and took down two science tents, medical, rec mod, and mechanics arch, along with camp electrical cabling.
Koehler flew from WAIS to MCM on 1/27/16
Koehler flew from MCM to CHC on 1/30/16
Koehler flew from CHC to CONUS on 2/2/16
Problems Encountered:
Primary problem encountered was lack of flights which delayed crew in McMurdo for two weeks
Electrical panels and transformer were removed when no IDDO personnel were present, causing lost time trying to locate and repack IDDO/DISC components.
Cargo that wintered over at WAIS from 2014-15 season, did not make it out for vessel shipment this season.
Successes:
The crew of carpenters worked very well which allowed for all DISC work to be completed in only a week.
WAIS camp staff and equipment operators were very willing to help wherever needed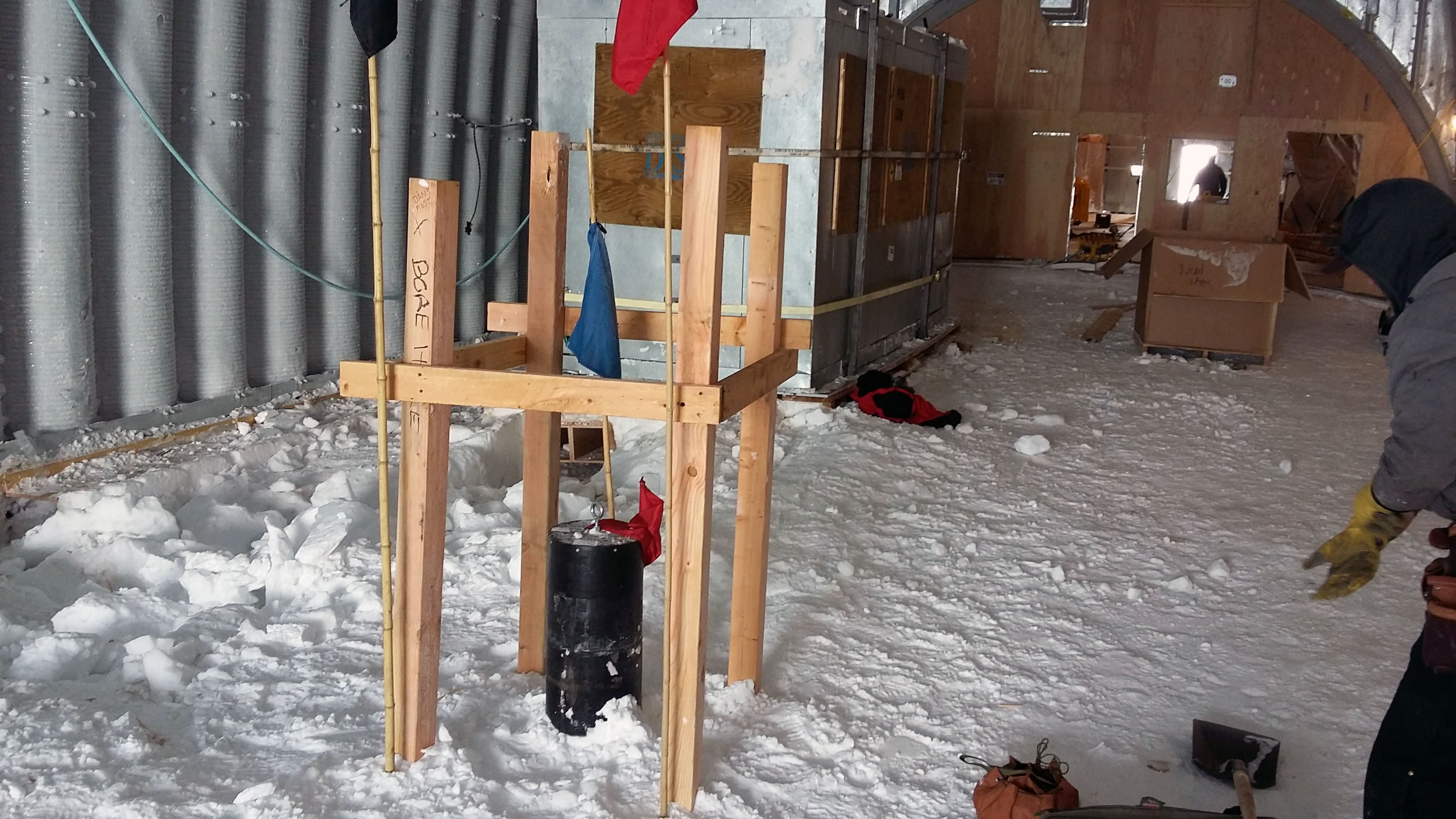 The borehole casing extension at WAIS Divide, Antarctica. Credit: Jim Koehler