News
Field and CPL Updates
2007-2008 Antarctica
November 12, 2007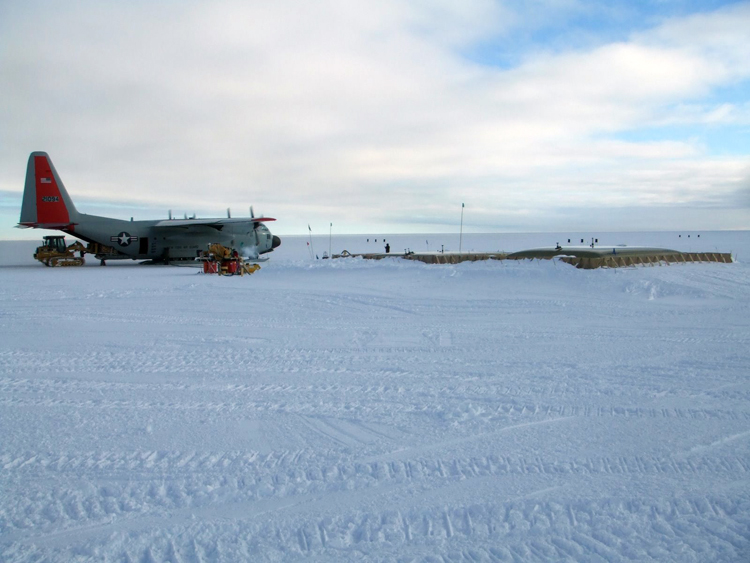 Camp:
Poor weather conditions across the continent have delayed aircraft missions from CHCH to McM Station & McM Station to WAIS Divide camp
Spring storms are moving through the area creating poor visibility and snow drifting
Camp construction delayed by several days due to FEMC crew and materials being stuck in McM Station
Camp construction is now progressing well despite the delays. Majority of structures are up and crew is working on providing camp power in the next couple of days
Arch construction crew delayed in CHCH for several days. Crew is now in McM Station and organizing materials and FEMC support. Expected to fly to camp within the week to begin and Eric Brown will provide an arch update.
Camp crew is clearing the entrance on the core processing side for the arch crew. The arch buried heavily as expected, no photos available at this time.
Skiway is supporting 19,000 lbs ACL. The ACL should increase after the next couple of LC-130 missions are completed and the skiway gets hardened by aircraft use.
Two twin otters refueled at camp while relocating from Rothera Station. One Ken Borek twin otter crew was stuck at camp for a couple of days while flying from Rothera Station to McM Station; however, the Terra Nova aircraft was able to continue to the Italian base without any significant delays.
The Basler once again proved to be an excellent aircraft for camp put-ins
Caterpillar D-4 LGP tracked dozer is scheduled to fly to camp this week. The VMF is providing an additional mechanic to assist with the reassembly of the tractor. The arrival of this dozer is much anticipated by all (especially the PM).
One camp staff remains in McM Station due to the flu sickness. He expects to head to camp within the week.
Generators / Switchgear:
Generator / switchgear equipment arrived PTH on Monday, 05 November as scheduled
PTH crew did an excellent job expediting the processing and preparations for COM SUR shipment
Equipment arrived at the Long Beach docks for a COM SUR vessel that departed on Sunday, 11 November, 2007
Equipment is expected to arrive at the CHCH Air Cargo Yard (ACY) by 29 November, 2007. Several days ahead of schedule due to this shipping line's quicker sailing times than others.
CHCH air operations will schedule the USAP Airlift of the equipment over the next week, we are hoping for a 04 December, 2007 flight south.
Schedule updates will be provided once known