News
Field and CPL Updates
2011 Core Processing Line
July 22, 2011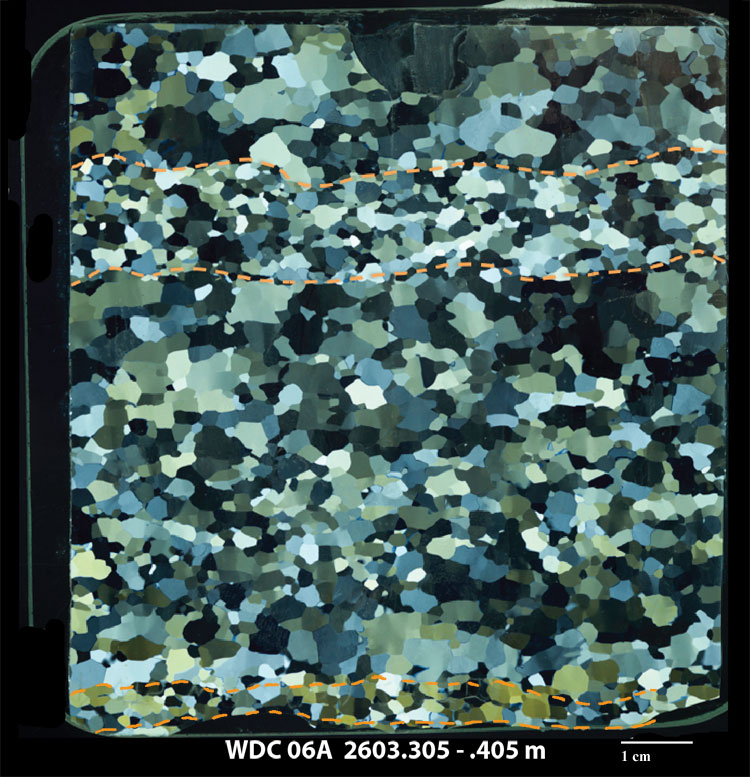 Efficiency continues here at the National Ice Core Lab - we have worked through another 150 meters of ice, leaving a mere 500 meters left for this summer. We ended the week at a depth of 2830.4 meters. This is our second week in a row where we've progressed at a rate well beyond that required to reach the bottom of the core by August 19th. Hopefully this will buffer us in the case of any slowdowns in the coming weeks. Everyone seems excited by the progress and spirits remain high despite many here having been plugging away for six weeks.
Joan Fitzpatrick (USGS) gave a great introductory-level talk on Friday covering the physical properties of ice and why information from their studies is so critical for this ice core record. Physical properties work investigates the physical structure of the ice itself, from crystal orientation and size, to air-bubble numbers and densities. This data provides essential checks, which ensure that climate records derived from ice cores are not unduly altered by physical processes affecting the ice.
The physical property team recently noticed some interesting structures within the ice, and so has put together a science tidbit to keep everyone in the loop. Richard Alley (PSU), Joan Fitzpatrick (USGS), Isabel Hong (USGS), and Matt Spencer (LSSU) all contributed to this update.
We continue to plug away here! As always, thanks to everyone for helping with our continuing success.
Peter Neff
WAIS Divide SCO Representative, 2011 CPL