News
Field and CPL Updates
2011-2012 Antarctica
February 1, 2012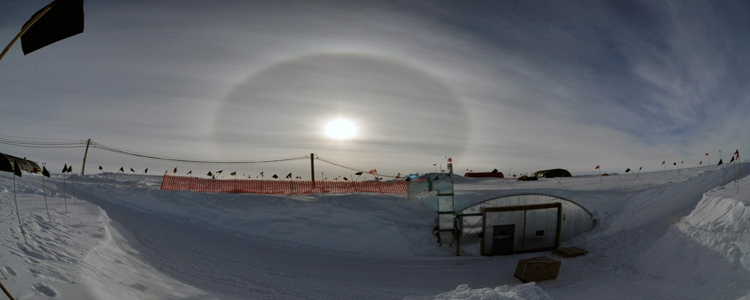 This is the last field update for the 2011-12 season. The science and drilling crews have left WAIS Divide. The camp crew is doing the cold task of closing camp as they continue to occupy smaller and colder bits of it.
A summary for the season follows:
There were no major injuries or stuck drills.
The main hole was deepened 71.6 m to 3,405 m (cable depth). This leaves ~50 m of ice under the bottom of the hole to act as a barrier between the basal water system and the drilling fluid.
Samples were collected from the bottommost cores for fugitive gases within minutes of the core being brought to the surface (Severinghaus).
Optical and temperature measurements made in the hole went perfectly (Bay and Clow).
Sonic and vertical seismic profiles were partially successful, but had significant equipment problems (Waddington and Peters).
Pressure logging (Severinghaus) was successful and allowed better fluid compensation of the borehole (Johnson), for stewardship purposes.
Pit and shallow core samples were collected for stratigraphy and firn gas (Wong and Mitchell).
Replicate coring methods were tested. The equipment operated as designed, but was not able to cut into the borehole wall enough to make a deviation.
There was great support from RPSC, particularly the camp staff. The staff from all of the organizations (RPSC, IDDO, and science) worked and played exceptionally well together.
There is an abnormally high chance the cargo vessel may not pass an inspection in New Zealand that is required before it can proceed to McMurdo. In the event that the vessel cannot proceed to McMurdo, Don Voigt has made plans for the core to be stored in McMurdo over winter. The plan includes daily monitoring of the core temperatures and redundant cooling equipment. If this happens, the bottom 71.6 m of core would not be at NICL until April 2013.
Jay and Don's SITREPs for the last week and half of operations are below.
Thanks to all of you that spent so much time and effort on this season!