News
Field and CPL Updates
2012-2013 Antarctica
January 14, 2013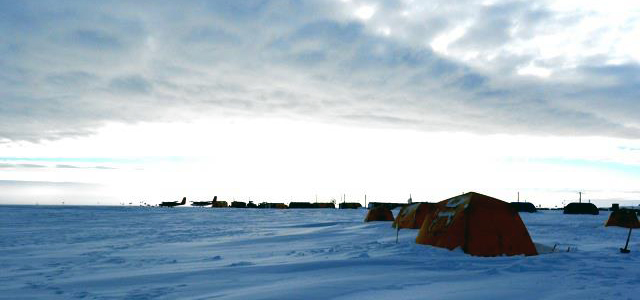 This week at WAIS Divide the drill crew recovered 21 m of core from the third replicate zone, starting at 2,228 m. There were complications getting the third replicate zone started and once again the drill crew was able to work through the issues.
NSF has approved a three-day extension to the drilling, so the last day of drilling will be January 31. If things go well there should be enough time to complete all of the goals for the season. We owe the drilling, science and camp crews special thanks for agreeing to extend the season for three days. Obviously they all have a strong commitment to the project.
Brad, Emily, John and Gram (camp staff) made an overnight trip to the other side of the divide to collect two shallow cores to investigate the spatial gradient of the water isotopes.
Sridhar Anandakrishnan, who was passing through on his way back from PIG (Pine Island Glacier), gave a science talk that linked together the science of the PIG, POLENET, and WAIS Divide Ice Core projects.
Don and Krissy's detailed reports are attached.
It has already been a long season for everyone but there are still 18 days to go. We are very pleased with the progress and safety records to date.