News
Field and CPL Updates
2010-2011 Antarctica
January 3, 2011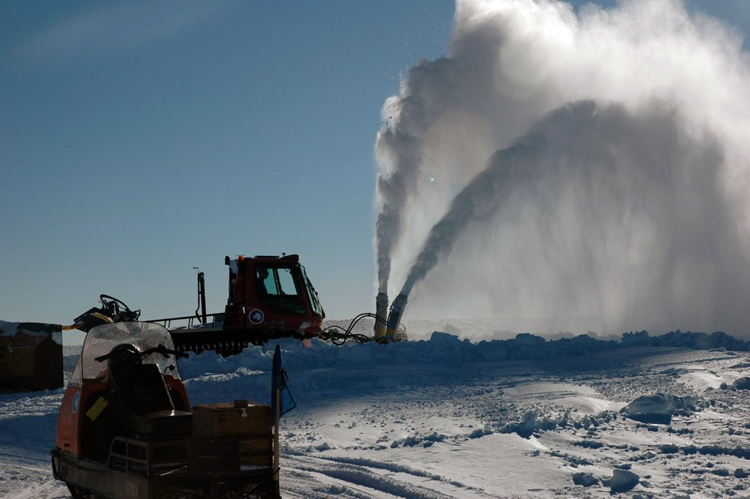 Dear WAIS Divide Enthusiast,
This was our most challenging week yet. The drill was non-functional for 2.5 days due to mechanical problems that propagated into the electrical system. The repair effort was complicated by a small supply of spare parts, which prompted a successful push to quickly get a package from Christchurch to WAIS Divide. Nicolai Mortensen modified and rebuilt the motor drivers. Krissy Dahnert and others assisted with the mechanical systems. No one got much sleep. We received permission to expedite Jay Johnson down from Christchurch, but the flight has been delayed. Nicolai and Krissy got the drill working again, but at this moment we do not have a spare electronics section and have to drill conservatively. Nicolai, who was going to leave before Christmas, is staying on until we get a spare system operational. It took a big push by the drill crew to get everything working again.
The current depth is 2,761 m, which is about 26.5 kyr. Due to the drill problems we only recovered 78 m this week. We are recovering about 25 m of core per day when things are going well. Core quality has been excellent, and several cloudy ash bands were observed. Core handling is going smoothly. Brian Bencivengo replaced Geoff Hargreaves as the NICL representative. Giff Wong is still the SCO representative. If we have to stop drilling around January 21 as planned we will not meet our depth goal of 3,330 m. We hope to be able to extend the drilling several more days, but this depends on many factors such as weather and support logistics for other field camps.
We sent 64 boxes of ice to McMurdo. Unfortunately the temperature loggers on the OUTSIDE of the boxes indicated the temperature in the aircraft cabin was +10 C to +21 C, which is 15 C warmer than normal. We have only been able to get the temperature logger from INSIDE one of the boxes and it shows the ice in that box was warmer than -20C for four hours, reaching a maximum temperature of -18.7C. This is warmer than our -20C requirement, but fortunately is only for a short time so I think the ice in that box is fine. We are working on getting temperature loggers from inside some of the other boxes. We are trying to track down why the aircraft was so warm and make sure it does not happen again. The 109th has not been cooperative on this issue and has officially said this was a normal cold-deck flight, even though the data loggers show it was not.
McMurdo has been abnormally warm, which has caused problems on the Pegasus runway. The C-17, which lands on wheels, made a 300 m long gouge in the ice runway and there has been a multi-day effort to repair the runway. This has stalled personnel in Christchurch including Mark Twickler, Jay Johnson, and myself (Ken) for almost a week (we do not expect any sympathy). Fortunately we were able to get the spare parts Jay had with him down to McMurdo and then to WAIS Divide.
Below are the two SITREPs from Giff and Krissy that provide all of the details.